TECHNOLOGY
We make technology contribute to the success of your cause.
Create an online community for your organization with GoodFunnel
The best solution to create user communities on your website and feed the conversion funnel of your NonProfit. All from your WordPress.
GoodFunnel will help you grow your organization's audience and engagement. It enhances interactions with users and allows establishing higher value relationships with them. It works on WordPress platforms and integrates with your CRM software.
GoodFunnel allows you to energize and manage a community of users on your website. With GoodFunnel all the people who are part of the audience of your organization (beneficiaries, volunteers, buyers, memberships, donors, supporters, followers) have a single login to carry out any action on your website. And all this activity is recorded in the CRM for future segmentation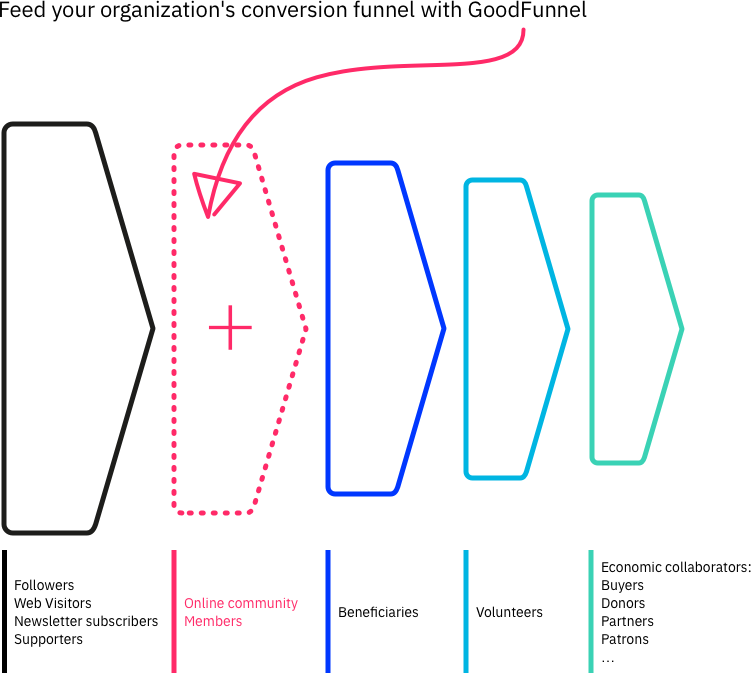 GoodFunnel eliminates recurring identifications so that a user can register for events (courses, workshops, etc.), download documents, participate in forums, make comments on the blog, make inquiries, modify their personal data… All from a single access.
With GoodFunnel you will boost the attraction of supporters and the engagement of your audience as a preliminary step to converting them into economic collaborators of your organization. Creating an online community on your website will decisively contribute to the growth of your audience and fundraising for your organization.
What they say about us
«The combination of technological, communication and marketing knowledge make GoodProfits a strategic partner. In addition, they know the reality of the third sector and help us make decisions»
ÍRIA SAA, COMMUNICATION AND FUNDRAISING DIRECTOR OF FUNDACIÓ ESCLEROSI MÚLTIPLE
«Over the years, projects are always approached with enthusiasm, care and focused to accomplish defined objectives. This people is a Good option.»
Oleguer Serra, CEO of Òmnium Cultural
«They provide the right balance of professionalism, creativity and customer service to meet our needs. They always listen carefully and bring us new ideas.»
ANNA ROIG, Communication and Fundraising Director of Càritas de Barcelona
«The GoodProfits colleagues are a great choice for any nonprofit, large or small. They work with transparency, realism, experience and an important knowledge of the techniques and methodologies that helps to grow the organizations.»
PEDRO ÁLVAREZ, Consultant and Founder of SinergiaCRM
«It is always a pleasure to work with GoodProfits. A professional and innovative people who are 100% involved with the projects, and make collaboration very easy.»
VIRGÍNIA GARCIA, ADJUNTA A DIRECCIÓ DE FUNDACIÓ LLARS DE L'AMISTAT
«Not only provide us with digital fundraising services, they also accompany us in the learning process that supposes a commitment to the digital channel.»
JOAN REVENTÓS, Director of Fundació Kālida
«Apart from their knowledge, I would highlight the commitment of the GoodProfits team. They make the projects their own and get involved to make them work.»
TON BARNILS, DIRECTOR at CENTRE EXCURSIONISTA DE CATALUNYA
«Starting with digital marketing at the hands of professionals like the GoodProfits team gives you a lot of peace of mind due to the transparency, trust and knowledge they have of the environment.»
JOSEP HEREDIA, DIRECTOR en THE RICKY RUBIO FOUNDATION